Logging In
Start by signing in to your Easy Sites account. If you have need help retrieving your log in details, please contact us or follow this tutorial if you have Forgotten your Password.
After successfully logging in, please select "edit site" to alter any website you hold with Easy Domains.

Managing Your Page Settings
You will be presented with a list of your existing website pages with the options to edit, update and delete your pages. For the purposes of updating page titles, page description and focus keywords, we will be highlighting how to do this through the page settings section below.

Clicking the "Cog" icon will open a popup window with a variety of fields (depending on page type). For this example, we will be using the default page type as most of your pages will fall into this category.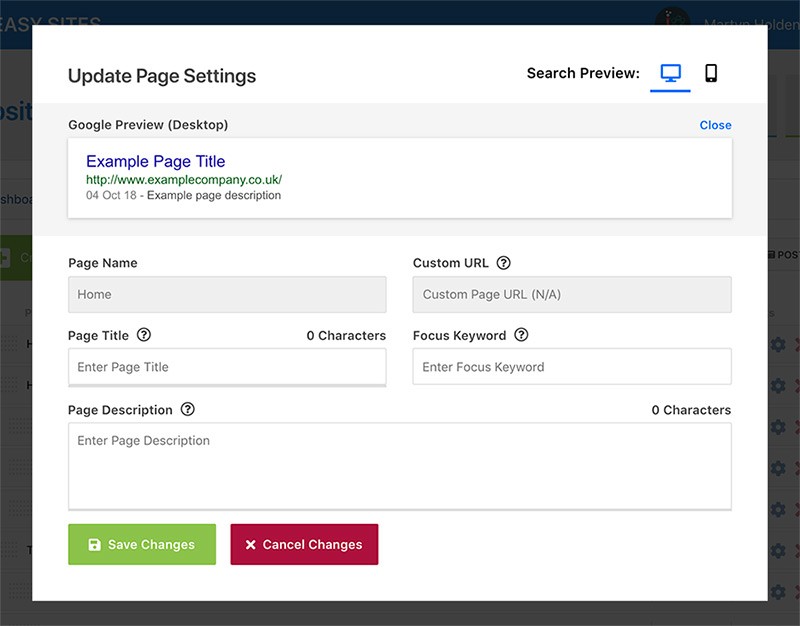 What Does This All Mean?
Page Name: Your page name is simply the name of the page you/we have created. The page name cannot be changed for the home page.
Custom URL: By default, this will be your page name. If your page name is "Services" then your URL will be examplecompany.co.uk/services. Setting a custom URL will show the page name on the website as "Services" but the actual URL could be examplecompany.co.uk/local-services. The custom URL cannot be set for the home page.
Page Title: Your page title is the most important setting in this section as it will be the first thing potential visitors see from the search results. The page title should be catchy, descriptive and relevant to the content on the page. We recommend keeping your page title below 65 characters to avoid search engines truncating your page title (eg. adding "..." to the end) and missing any important information.
Page Description: Your page description is not really considered a ranking factor by the search engines, but is still very useful for potential visitors. Search engines will highlight exact and broad match terms that the user has searched. If your website was ranking on the 1st page for plumbing services in London and a user searches exactly "plumbing services in London", then the search engines will highlight words such as "plumbing", "plumber", "London", "services", and more. Furthermore, it also offers you more space to highlight the content of this page. We recommend your page description is around 160 characters to avoid search engines truncating your page title (eg. adding "..." to the end) and missing any important information.
Please note: Google's algorithms will occasionally show up to 300 characters in the descriptions if a pages content/description is deemed valuable to the user.
Focus Keyword: The focus keyword section is a new feature added to the page settings and editor to always keep you in sync with the content. Your focus keyword should be the underlying page topic and be included in your page title and page description for good measure.
Google Preview: We have included a handy preview of how Google will likely show your website in the search results. You can use this to gauge where Google may cut off your page title and page description.
Example
Here is the same example page with completed page settings:
Example business type: Accounting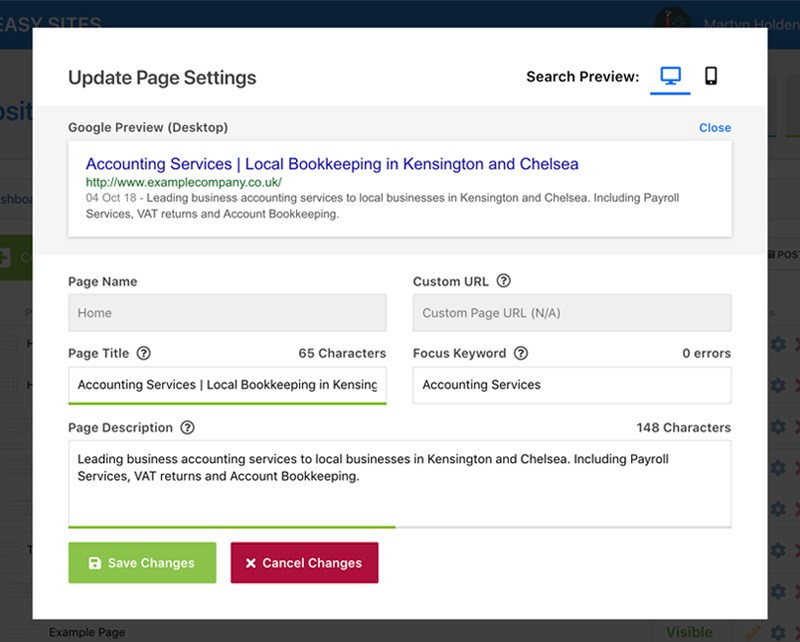 Conclusion
The updated page title, page description and focus keyword sections are provided to give you more control over how the search engines will present your website to users. The example preview is intended to act as a guide, giving you an idea of how your page should look, but it is not guaranteed to be 100% accurate.
Need Help?
If you have any problems following this guide or updating your page settings, please contact our team here.