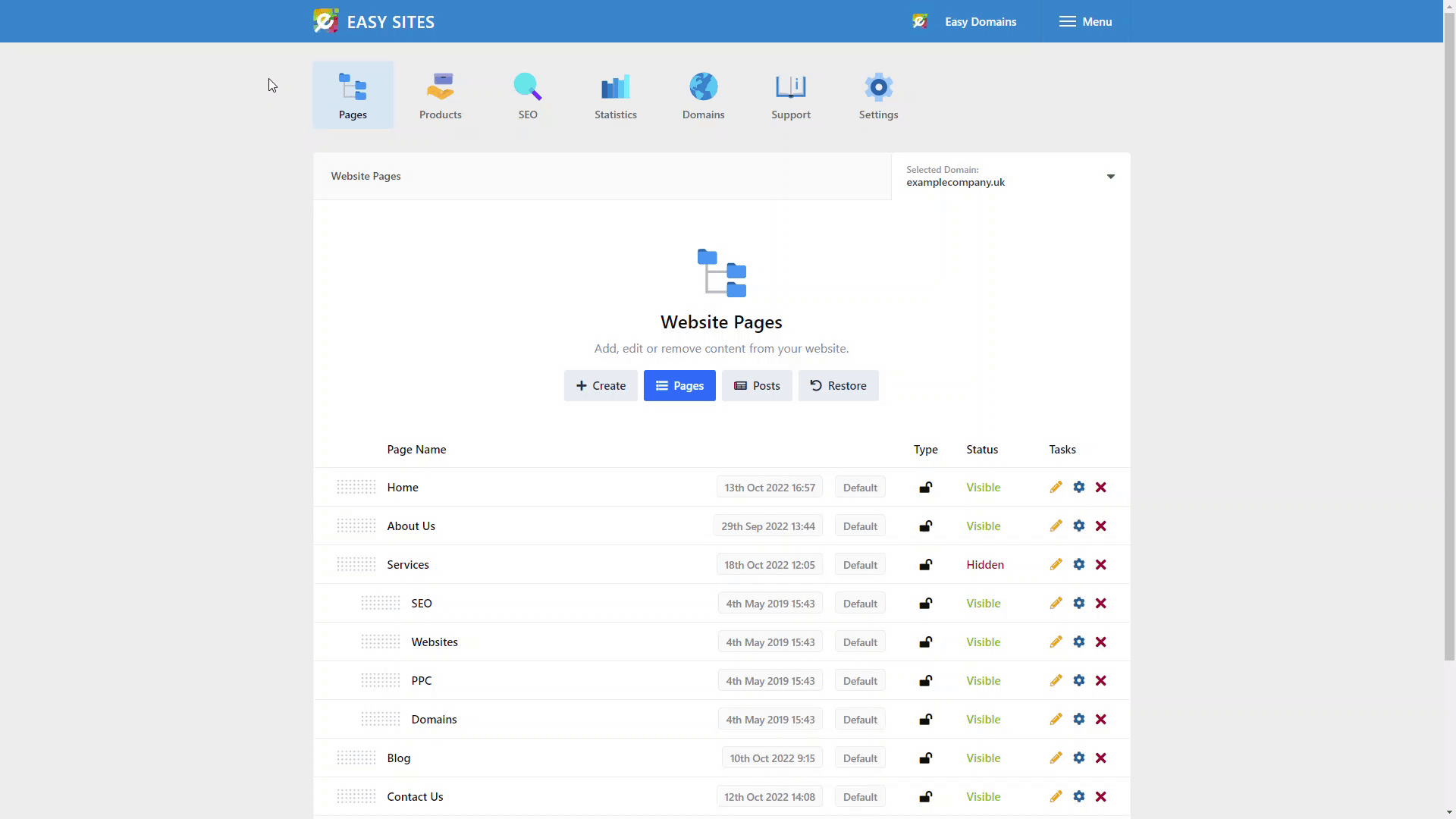 In this guide we will walk you through how to update the DNS settings of your domain in Easy Sites.
What Is Meant By "DNS"?
The most basic explanation of the Domain Name System (DNS) is a directory of domain names that computers use to translate domain names to IP addresses.
You will typically need to update DNS settings if you want to point your domain to a new server or you host one service with one provider and another service with another. eg. Website, emails, sub-domains, etc.
Logging In
Start by signing in to your Easy Sites account. If you have need help retrieving your log in details, please contact us or follow this tutorial if you have Forgotten your Password.
After successfully logging in, please select "edit site" to alter any website you hold with Easy Domains.

Domain Management
Choose the domain/website you'd like to change DNS settings for and you will be presented with the Pages menu.
Then from the main navigation bar, select the globe icon to go to the Domain Management section.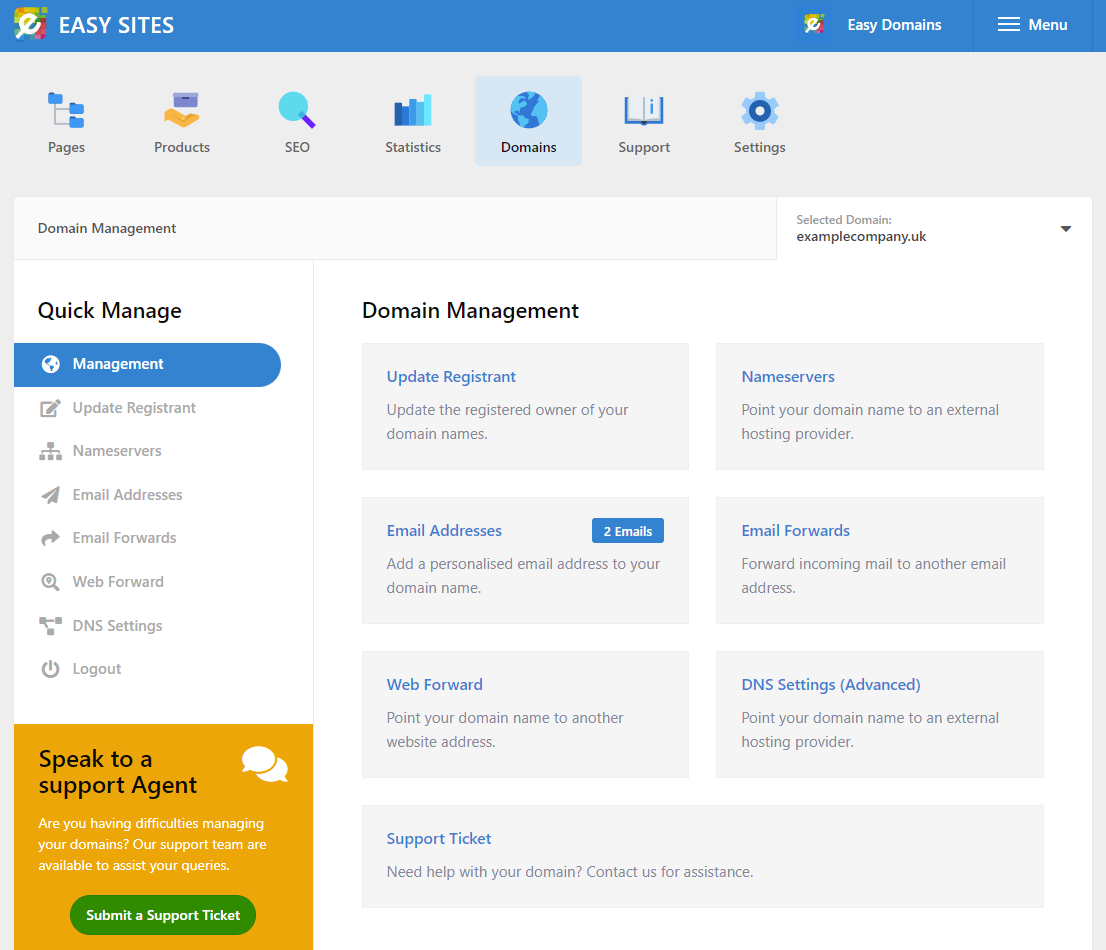 DNS Settings Tab
From the Domain Management menu, you can select "DNS Settings" from either the main dashboard or via the Quick Manage menu on the left.
Editing DNS Settings
You will be presented with the DNS Settings section, from which you can add/update/remove the various DNS settings for your domain name.
Please Note: This requires advanced knowledge so before you change any of the settings. If you are unsure what DNS settings you need to change or a third-party has asked that you update some settings, we would recommend that you speak with us first to avoid making any mistakes which could lead to your website being affected.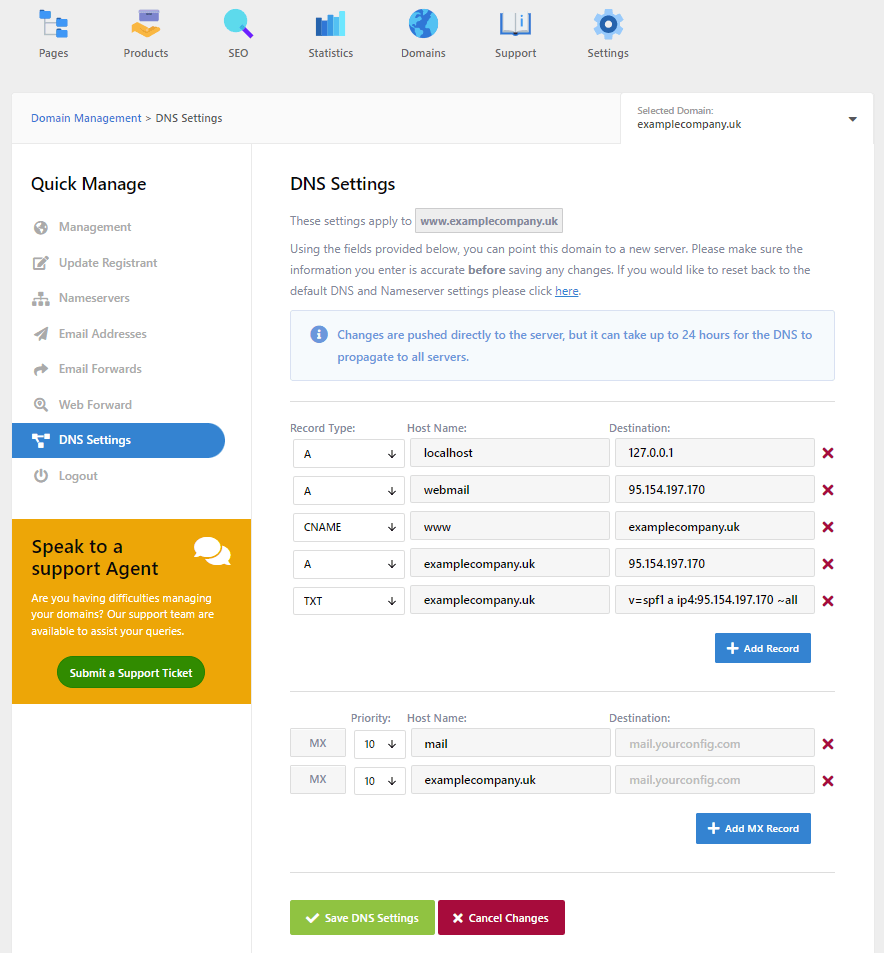 Saving Settings
Simply click "Save DNS Settings" to immediately push your new DNS settings to the server.
The changes are pushed immediately, however the changes may not propagate to throughout the internet around the world immediately. This process can take up to 24 hours.
For more information on how to manage your DNS settings, please follow the relevant links below:

What Is An 'A Record'?
Need help?
If you have any problems following this guide or modifying your DNS settings, please contact our team at here.