This guide will walk you through the process of setting up an email address in Thunderbird.
Thunderbird by Mozilla is a popular email client to send, receive and organise emails. It is a cross platform application which is available for Windows, Mac OS X and even Linux.
Installing Thunderbird
Before you continue, you will have to download and Install Thunderbird on your computer. Click the link below to visit the Mozilla download page. Once you have downloaded the program, you can follow the easy on-screen instructions to complete the Installation process.
Download Thunderbird: Here
Setting-Up Email
Once Thunderbird is installed, launch the application. You should then be presented with the "Welcome to Thunderbird" screen. From here we want to select "Skip this and use my existing email".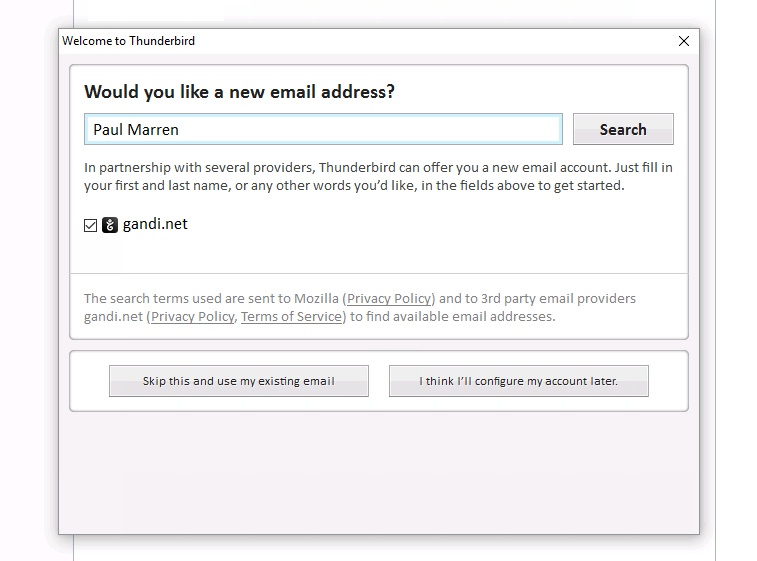 Account Details
On the next screen, enter your Full Name, Email Address and Password in the relevant fields. After completing these options, click on the "Continue" button.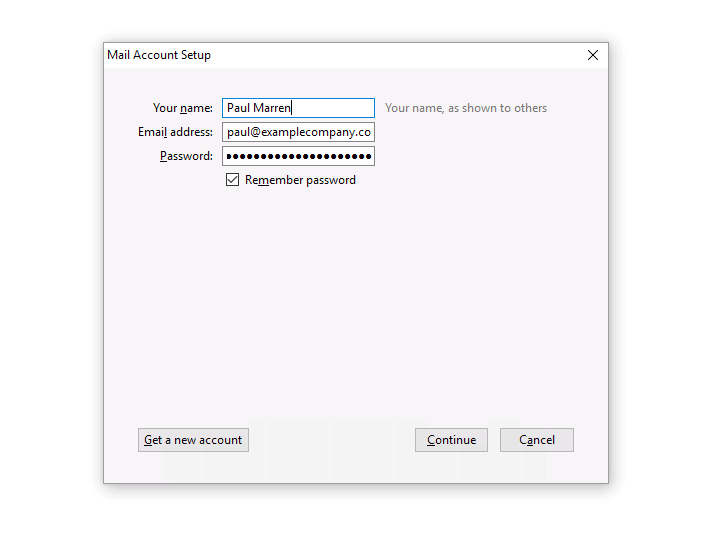 Thunderbird will now try and locate the server settings for you. Please skip this by clicking "Manually add configuration". You will now have the option to manually add all of the relevant email settings.
Mail Servers
You should start with adding the relevant mail servers, as your name, email address and password should already be pre-filled.
If you are not sure what the mail servers are or where to find this information please check out our "How to Create an Email Address in Easy Sites". The information required is listed under Help next to the email address you are setting up.
Confirming Set-Up
Once you have entered your mail servers select "SSL/TLS" under the SSL option to ensure your connection to the mail server is secure. Then in the username field make sure to enter your full email address. Once all the information has been entered click "Re-test".
If successful you will receive the message "The following settings were found by probing the given server".
If you receive any errors at this stage, please double check your email address and password were entered correctly, as well as the mail servers and ports. Any deviation from these settings may stop you from proceeding further.
Completing Set-Up
Now click "Done" to complete the setup process.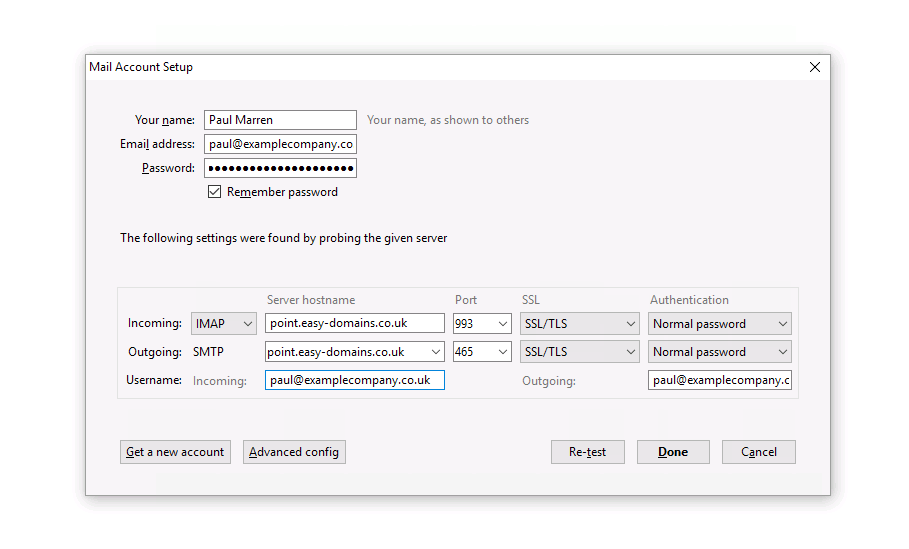 Your emails are now setup. Thunderbird will start synchronising all your Emails. Click Write to send a test email and make sure everything worked.
Need Help?
If you have any problems following this guide, please contact our team here.